Class details
Join us for a screen printing workshop with Daniel Haskett. During this one day workshop you'll learn the basics of screen printing and create your own limited edition prints/cards based on local Ealing Landmarks.
Saturday 23 April
10am – 4pm
Workshop Fee: Full price: £90; Retiree Price £75; Concession Price £60 (includes materials and light refreshments)
This workshop is limited to 10 people
Learn the basics of screen printing using paper stencils, while creating a limited edition run of 2 or 3- colour prints/cards. to send to your friends and family. Daniel will teach you the basics of screen printing from preparing a paper stencil through to the finished print on paper.
No matter what experience you have, you will be able to join this screen printing workshop and learn all you need to know about screen printing multiple colours on paper.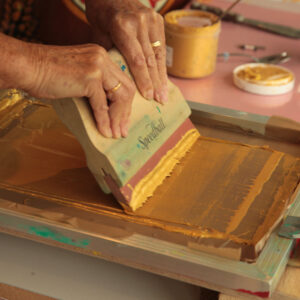 We provide light refreshments throughout the day, but please bring your lunch. Or you could visit our neighbouring cafes in Dickens Yard – there are lots to choose from.
If you have never been to OPEN before, when you get to Dickens Yard, we are the same end as the Church, Gail's Bakery and Brew Dog. School Lane is the "walk way" to the left of Bar #17 which looks like it is going to flats. We are along there on the left. If you reach Gym Box – you've just missed us!