Class details
During this new six week course we focus on depicting space using watercolours. It's led by practising artist and tutor, Gail Astbury. You can develop your own subjects, practise different spatial devices and watercolour techniques.
Tuesdays
2 – 4.30pm
26 April – 31 May
Block Booking Fee: £100
Weekly Pay As You Go Fee: £20
Limited to 12 artists
In this new course we take inspiration from the Fitzwilliam Museum in Cambridge; in particular from the ideas and techniques of contemporary artist David Hockney. He is exhibiting works throughout the museum and in the Heong Gallery until August 22nd, 2022.
His drawings, paintings and digital artworks are shown in a series of provocative encounters with historic works by artists including Claude Monet, John Constable, and Andy Warhol. The exhibition explores his obsession with how we see the world, and how our vision of time and space can be captured on the surface of a flat picture.
Hockney follows a tradition of creative experiments with optical devices similar to
Ingres' proposed use of the camera lucida
Canaletto's camera obscura
the birth of Renaissance naturalism in the 15th century
However, Hockney acknowledges that optical devices don't wholly correspond to the way we see the world. He knows we are mobile and emotional viewers; our eyes are connected to our brains and to our hearts. We see things through
the filters of memory and feeling, and in relation to our own bodies. And he knows that we are all different.
The Heong Gallery is in Downing College. The display charts Hockney's pioneering modern experiments from the 1960's to the present day in bringing hand, eye, and optical instruments together.
The Course
26 April – The Perspective Window
Exploring Florentine space and vanishing points through Hockney and Fra Angelico. Looking at interiors and exteriors and how perspective works on buildings in contrast to nature.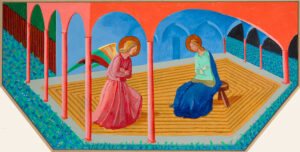 Hockney calls Landscapes a spatial thrill. This week we look at how to paint skies and washes with glazes and overlays in the foreground. Constable and Hobbema are the older influences.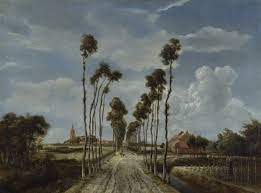 10 May – Creating Illusions of Space
Hockney references Poussin and Canaletto when creating stage sets. He makes use of models and collaged cut outs.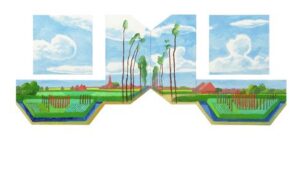 17 May – Illusions of Space cont
Hockney looks at Brueghel's use of aerial viewpoints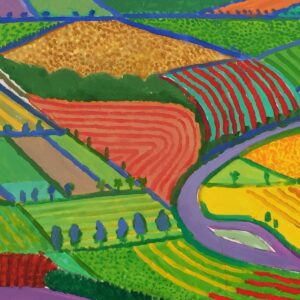 24 May – Exploring the Flower Gallery
"How do you make flowers last? Paint them every day." Something David Hockney does. We shall try out some still life techniques with fresh flowers.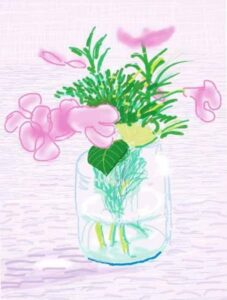 The advent of photography brought the seeing and use of shadows with it.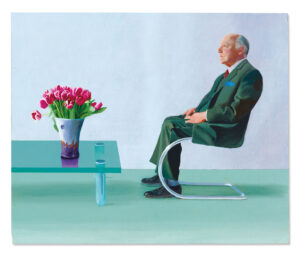 During the course we will watch some of his insightful lectures on this subject and draw reference from his excellent book Secret Knowledge. We will also look at his use of photography and digital aids..
Throughout the six week course you can develop your own subjects and ideas alongside practising and perfecting different spatial devices and watercolour techniques. By the end you will know how to depict space with confidence.
Support
Each week we provide support notes for you to keep. We send them to you before the class so you can bring the right equipment. Don't worry we also give you a hard copy for the session. We also share any links of video clips that Gail shows in class so you can refer to them again.
You don't need to be an expert to enjoy the studio, but you'll get more from it if you have some experience in painting with watercolours. We limit our class sizes to twelve. This means that you not only benefit from personal tuition but also enjoy peer support. So, why not join us for this short course and focus on depicting space using watercolours?