Class details
We've a new experience for everyone who likes to draw art and nature and wants to benefit from a tutored session. Join our drawing trips with Sheila Moylan and explore the art and nature of the world without leaving London. With sketchpad in hand explore the dolphin-riding sea-nymphs (neirids) of the Elgin Marbles at the British museum , or the imposing Michelangelo's David in the Cast courts of the V & A. Or how about a trip to Hanwell Zoo to sketch lemurs and flamingos and Japanese cranes?
Thursdays
10am start at the venue
£25 per session (£20 students and those on benefits)
The Tutored Drawing Trip Schedule
The British Museum
4 May : 10am – 1pm : The British Museum
The British Museum houses the famous Elgin Marbles that once graced the fabled Parthenon in Greece. They are beautiful and exquisitely detailed. Drawing allows you to truly understand sculpture and explore it in a mindful way. Join Sheila for this friendly group with the option to picnic in the Great Court.
You will focus on the Parthenon rooms and start with a series of short 10-20 minute drawings of different things. After the break our focus turns to a long drawing..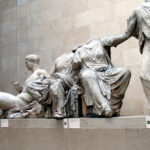 The Victoria & Albert Museum
18 May : 10am – 1pm : The V&A Museum
The Cast Courts at the Victoria and Albert Museum contain casts of many famous sculptures including Michelangelo's David, Trajan's Column, and Ghiberti's Gates of Paradise. These casts are sometimes in
better condition than the originals that may have been damaged by exposure to the elements, or even destroyed. For us it means we can get up close and personal to Michelangelo's David for instance, without taking a trip to Florence. We can even see his little fig leaf in a separate case which was used to spare Queen Victoria's blushes. So let's have an explore and a draw!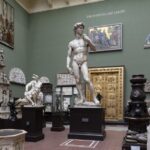 Hanwell Zoo
8 June : 10am – 1pm Hanwell Zoo + £4.50 entrance fee
Hanwell Zoo (formerly known as the Bunny park) is a wonderful local resource surrounded by beautiful parkland with a river and a maze before you even pay admittance. It has armadillos, lizards, flamingos, japanese cranes
doing their courthsip dance, meerkats chirruping warnings at planes flying
overhead and three beautiful ring tailed lemurs. It is a great place to take a sketch pad and experiment with the different textures movement and environment of the animals. You have to be quick though!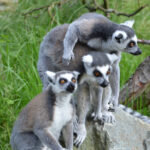 All you need to join the drawing trips with Sheila is your sketchpad and pencils. We'll send you details of where to meet us