Class details
Join us for the second series of art lectures by Nick Pearson focusing on great gallery collections. In Great Gallery Collections 2 Nick takes us to the Musee d'Orsay, Musee de l'Orangerie and Museo del Prado.
Mondays
10am
Lecture Topics :
6 February : Musee d'Orsay
13 February : Musee de l'Orangerie
20 February : Museo del Prado
Fee : £10 per person includes light refreshments
Musee d'Orsay
The Musee d'Orsay opened in 1900 and was originally a state-of-the-art, luxury hotel and railway station. However Paris was rapidly developing at this time and the station was soon out of date. It closed down 39 years later. This wonderful architectural conversion now displays some of the best 19th-century French painting and applied arts.
In this talk we look briefly at 19th-century Neo-Classicism and Romanticism before concentrating on the Realism and Impressionism that came after. The museum is famous for these works which includes masterpieces by Courbet, Bonheur, Manet, Degas, Monet, Renoir, Pissarro, Morisot and many more.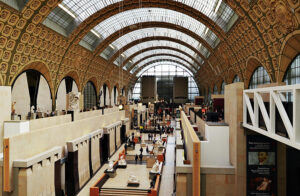 Musee de l'Orangerie
The 19th-century orangery of the emperor Napoleon III hosts the Guillaume-Walter Collection which contains important French early 20th-century art.
In this talk we learn about Paris and French modern art in the first few decades of the 20th century. The Collection was built during this time and includes great works by artists like
Modigliani
Soutine
Rousseau
Cézanne
Derain
Matisse
Picasso
Monet
During the tour we also see the enormous Nymphéas by Claude Monet which are hung in two specially built galleries.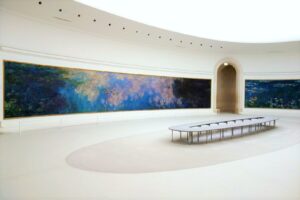 Museo del Prado
The Prado, founded in Madrid in 1819, houses great works from the historic Spanish Royal Collections. It's world-famous for work by artist Velázquez. "Las Meninas" never travels and you can only see it by visiting the Prado. It also holds the world's largest collection of paintings by Hieronymus Bosch; thanks to the King Philip II of Spain's love of this visionary 16th-century Flemish artist's fantastic and deceptive works. We'll look at these and works by Raphael, Titian, El Greco, Dürer, Goya and many more.
It would probably take you two days to wander around this fantastic collection. Do some of it with Nick, from Ealing, in a couple of hours!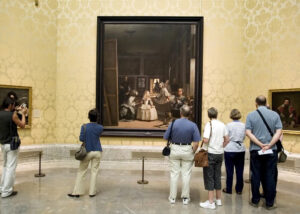 Join us this February and take the opportunity to explore more artists and their work in Great Gallery Collections 2. After each lecture Nick sends you notes on the topics and works of art that you've seen during the talk.