Class details
In this 6 week course we shall create watercolours inspired by Cezanne. We shall take ideas and inspiration from the forthcoming Paul Cézanne exhibition at London's Tate Modern.
Tuesdays
2 – 4.30pm
13 September – 18 October
Course Fee: £100
Pay As You Go Weekly Fee: £20
Limited to 12 artists
Cézanne remains a pivotal figure for all generations of artists. He painted and created work in a rapidly accelerating world. In spite of this, his paintings focus on his own personal experiences, what was local to him and the everyday. In this way he was able to make sense of the chaos and uncertainty of modern life.
During the course we study work by contemporary artists including Kerry James Marshall, Lubaina Himid and Phyllida Barlow. We'll also read the exhibition essays. By doing this and visiting the exhibition we shall be able to understand Cézanne's continuing legacy as an inspirational figure.
The exhibition at the Tate runs from 5th October 2022 until 11th March 2023. We shall visit the exhibition on Tuesday 11th October. There are 80 works in the show which have been gathered from collections around the world. The exhibition will feature key examples of Cézanne's
iconic still life paintings
Provençale landscapes
portraits
bather scenes
Course Content
13 September – Still Life 1
Exploring the colour and compositional structures that Cézanne set up using everyday objects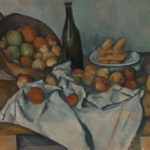 20 September – Still Life 2
Consolidating our still life painting explorations with a finished piece
27 September – Landscape 1
Looking at the use of 'passage' within the Provencal paintings and how they progress stylistically throughout Cézanne's life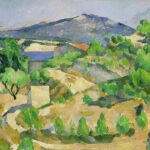 Consolidating what we learned from Cézanne to create our own iconic landscape motif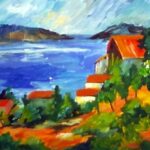 11 October – Gallery Visit
A guided trip to the Tate Modern Cézanne exhibition – We will study 3 stand out works throughout the 2.5hr session with the opportunity to choose a favourite to work from next week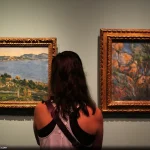 Self guided painting inspired by one of Cézanne's masterpieces in the exhibition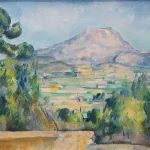 Support
Each week we provide support notes for you to keep. We send them to you before the class so you can bring the right equipment. Don't worry we also give you a hard copy for the session. We also share any links of video clips that Gail shows in class so you can refer to them again.
You don't need to be an expert to enjoy the studio, but you'll get more from it if you have some experience in painting with watercolours. We limit our class sizes to twelve. This means that you not only benefit from personal tuition but also enjoy peer support. So, why not join us for this course and focus on watercolours inspired by Cezanne?