Class details
Join us for a Monday evening art lecture with Nick Pearson. In this trio of lectures he explores the British Art Movements of The Bloomsbury Group and The St Ives School.
Mondays
6.30 – 8.30pm
28 March – The Bloomsbury Group
4 April – The St Ives School part 1
11 April – The St Ives School part 2
£10 per person including light refreshments.
Bloomsbury in London, Charleston in East Sussex and St Ives in Cornwall were all important places in the development of modern British art from the late 19th to mid 20th centuries. The Bloomsbury Group and the St Ives School were key movements.
The Programme
The Bloomsbury Group
Charleston, Lewes, East Sussex was one of the centres of the Bloomsbury Group. It was also home to artists Vanessa Bell, Duncan Grant, their children (and occasionally one of Grant's male lovers!). Bell and Grant decorated their spaces with wall paintings, panels and hand-painted screens.
Vanessa Bell, Duncan Grant, Roger Fry and other members of the 'Bloomsbury Set': were they privileged bohemians who dabbled in the arts – or creatives who made a major contribution to the development of British culture and introduced the ideas of
modern European art to a British audience?
Explore the lives, lifestyle and work of the artists of the Bloomsbury group, using photographs, letters and other material from Tate's archive – as well as the modern figurative, post-impressionist and (some)
abstract paintings, modernist furniture and other designs (from Roger Fry's Omega Workshops) that poured out from this important collection of artists writers and intellectuals.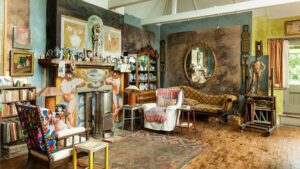 4 April : The St Ives School – part 1
St Ives, a small pilchard-fishing town on the Cornish peninsula attracted artists like J.M.W. Turner, James Abbott McNeil Whistler and Stanhope Forbes in the 19th century for its landscape and unusual quality of light.
This growing community of artists later drew Ben Nicholson, Barbara Hepworth and other early 20th-century modernists to its shores. Together they created a vibrant art scene that in the 1940s and '50s was an active centre of modern art in the western world.
Those artists created work that can now be seen in
museums worldwide including Tate Britain, Tate Modern and Tate St Ives.
We shall look at some of them in detail.
11 April : The St Ives School – part 2
In this lecture we look at the way the St Ives school developed and become the most important centre of modern art in Britain. It had an international reach that exceeded that of artists working in London at the time.
Artists like
Peter Lanyon
Terry Frost
Alan Davie
Wilhelmina Barnes-Graham
Roger Hilton
were making sensitive and bold, figurative, semi-figurative and abstract paintings that vied with the powerful work being produced in New York by American Abstract Expressionist artists like Jackson Pollock, Mark Rothko and Willem De Kooning.
The artists were in touch with each other.
Join Nick to explore how the work produced there, influenced by the peninsula's light and rugged landscape made this small Cornish town one of the most important geographic and cultural sites in the history of British art.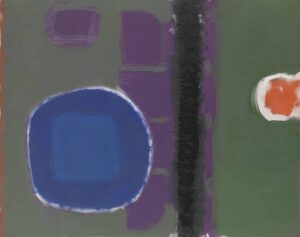 Join Nick Pearson to learn more about British Art Movements in a new series of open to all in-person Monday evening art lecture.