Class details
We start the next series of art history lectures with a look at three great Impressionists. Join Nick Pearson and learn about the lives and work of Monet, Renoir and Pissarro.
Mondays
Lectures Times : 1.30pm and 6.30pm
Lecture Topics :
26 September : Claude Monet
3 October : Pierre-Auguste Renoir
10 October : Camille Pissarro
Fee : £10 per person includes light refreshments
Impressionism began when young artists in Paris wanted to depict their growing modern city with the Realism they had learned from Courbet and Manet and the expressive brushwork of the earlier Romantic artist Delacroix. They wanted to
bring every surface to life in touches of light and colour
grasp a fleeting glimpse of modernity as it unfolded before them

Nature changed constantly for the Impressionists. To capture the changes they had to fix their impressions in rapid strokes on the canvas. They built the image up in rhythmic un-modulated marks. It they were painting colour and light, they allowed the sun to reveal or bleach out objects. Objects themselves could merge into one another to create an 'impression' of a scene rather than a 'catalogue' of its constituent parts.

Railway stations, café concerts, dances and streetscape were popular modern subjects. Nature was also popular. However, the imagined fantasies of neo-classical nymphs and shepherds in Arcadian fields weren't popular; even though they were still popular at the official annual Salon exhibition. This was a new, post-industrial, humanized nature of parkland pursuits, boating parties, dances and even cricket matches!
The Lecture Topics
Claude Monet
26 September : 1.30pm and again at 6.30pm
The name and paintings of Monet immediately come to mind whenever we think of Impressionism.
Perhaps this is because Monet remained loyal to the principles of Impressionism into the early years of the twentieth century and his death in 1926, far longer than any of his colleagues.
Arriving in Paris from Normandy in 1862, he was certainly a central, even leading figure in this surprisingly loose-knit group.
We shall look at the early work of this important modern painter, his development as an Impressionist and end with his late lily-pond paintings. We'll demonstrate him to be perhaps the first painter to give the viewer a more immersive, near-abstracted experience in paint.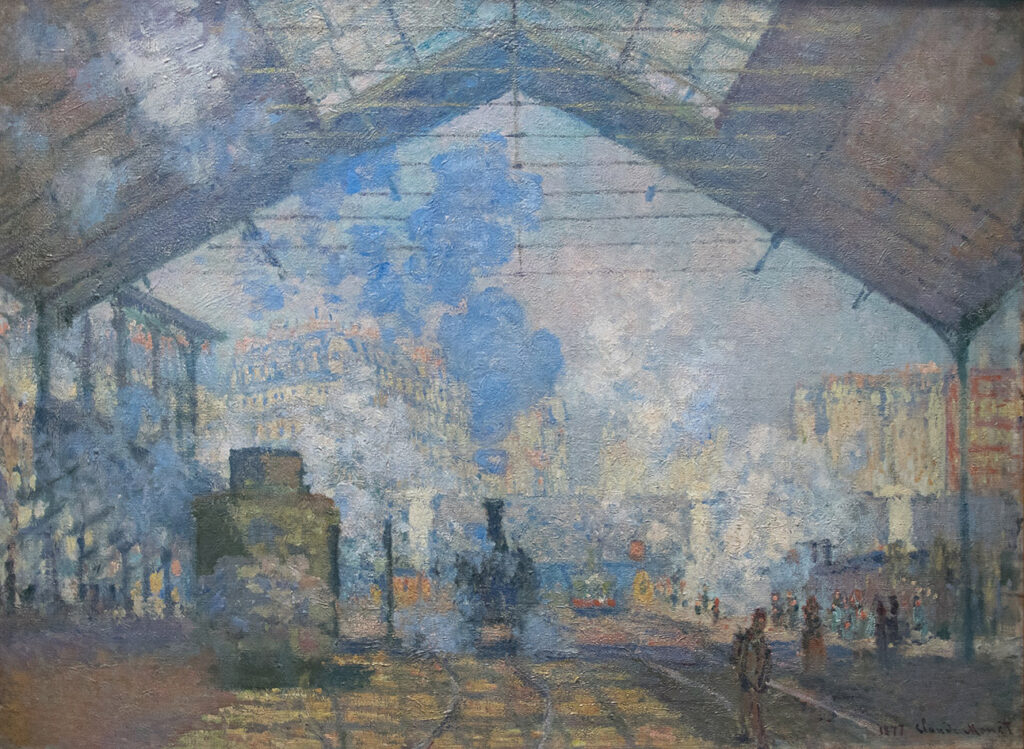 Pierre-Auguste Renoir
3 October : 1.30pm and again at 6.30pm
Renoir met Monet at an academic artist's teaching studio in Paris. They worked together around 1869.
The two of them were more interested in painting the visual properties of light and water rather than the neo-Classical style they were taught. They also developed two ideas very early on that became central to Impressionism:
that shadows are not grey or black, but are coloured by the objects around them
that the colour of an object is modified by the light and reflections of their surroundings
Although we shall look at many of Renoir's paintings to trace his development as one of the most important Impressionists, we shall concentrate in particular on the joyfully dynamic Dance at the Moulin de la Galette. It is a painting that can teach us a lot about Impressionism.
Camille Pissarro
10 October : 1.30pm and again at 6.30pm
Pissarro was the eldest of the Impressionists' group and nicknamed 'The Prophet' by his Impressionist friends. The nickname was the result of his Jewish heritage, balding head and long white beard.
He arrived in Paris from the Danish West Indies in 1855 and joined Monet and Renoir's group. He was the only painter to exhibit in all 8 Impressionist exhibitions between 1874 and 1886.
Pissarro became a pivotal artist and mentor within the movement. He was instrumental in many modern artists' careers within and outside his own circle. Artists who benefitted from Pissarro's tuition, support and mature council included
Vincent van Gogh
Paul Gauguin
Georges Seurat
the young Henri Matisse
Berthe Morrisot
His paintings of the industrial areas of Paris and the north and the Grande Boulevards give us a lively, immediate record of the times, filtered through the lens of Impressionism – something Pissarro was instrumental in developing, but not too precious to experiment with.