Event details
The Sloven by Stefan Grabinski is a classic horror story. It comes from his book of short stories about railway travel. A Wonderful Adventure has adapted this story into a spooky play especially for the whole family.
Saturday 30 October
Two shows: 3pm and 6pm
Tickets: £10 Children (£7 Adults) includes all workshop materials
Blazek Boron has been a train conductor for many, many years. He has become jaded with passengers making his life difficult. One night, while training a new conductor, Blazek notices an old familiar smell, like fennel. He knows this smell all too well. It signals the imminent arrival of the Sloven: the train monster made up of lost things left behind by passengers, and disaster always follows in its wake!
Can Blazek convince his young recruit of the imminent danger before it is too late, and will the nervous passengers complicate matters further? What does the train monster want and can it be stopped in time? Join us for this wonderful adventure on the railway!
Fun for the whole family The Sloven by Stefan Grabinski is performed by theatre company, A Wonderful Adventure. They specialise in the fantastical, magical and historical.
The Cast
George C Francis trained at the Bristol Old Vic Theatre School, graduating in 2007 with a distinction in acting. He has performed in and directed a wide variety of productions. He recently played Jamie in Monsteers production of "The Feeling" at the Other Palace, Toad in "The Wind in the Willows", Father in "Twas the Night Before Christmas" and Dickon in "The Secret Garden". Other roles include the title character in "Macbeth", Ganya in "The Idiot", Leontes in "The Winter's Tale", Ivan in "Ward no. 6" Benedick in "Much Ado About Nothing", Bob in Cutlery Wars", Mercutio in "Romeo and Juliet", Beast in "Beauty and The Beast", and Scrooge in "Grumpy Old Scrooge". He has led and facilitated several workshops for young people, and people with special needs.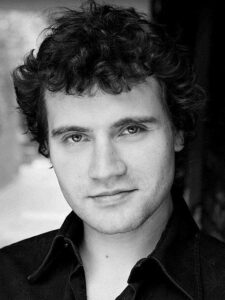 Halie Darling graduated from LJMU with a first-class BA Hons in drama. She has performed and produced in the West End, One of the performances she worked on won a West End Talks Award. Halie has performed in many productions as an actor, as well as directing and producing. Recent credits include The Witch in "Room on the Broom", Mel in Monsteers production of "The Feeling" at The Other Palace, Mrs Fletcher in "Cold Delivery", Ratty in "The Wind in the Willows", Mary Lennox in "The Secret Garden", Dorothy in "The Wizard of Oz" and Amelia in "Amelia Earhart at the Edge of the Stars", Halie starred in "Alien: Escape" aside the legendary monster from the Alien franchise. She played Mrs Lovett from Sweeney Todd on Strictly Come Dancing, ITV. She has led and facilitated workshops for adults and children and people with special needs.