Class details
Continue exploring mixed media techniques with Joel Sydenham in a four week course. This course is suitable all levels of experience, but will focus on technical skills and simple media.
Wednesdays
3 – 24 November
2 – 4pm
Venue: OPEN Ealing Unit 14 School Lane Dickens Yard Ealing W5 2TD
Course: Full Fee £90; Retiree Fee £75; Concession Fee £60
Pay as you go rates: Full Price £25; Retiree Price £20 ; Concession Price £17
The course is limited to 8 artists.
This course provides a wonderful opportunity for you to further your drawing and painting abilities and enhance your creative process. Guided by experienced tutor and artist, Joel Sydenham, you will
improve your technique
gain confidence in your abilities
develop your own creative style
create artwork you love and are truly proud of
enhance your portfolio
During the four week course you have the opportunity to make art in your own style and continue exploring mixed media techniques learned in the last course. Or you may decide to learn to work in a completely new medium. You will be supported individually by the tutor and receive regular feedback and demonstrations that could help you improve your own specific style, or create more dynamic work.
You'll spend about half the time working on subjects of your own choosing and the rest of the time working on study pieces that will help improve your technical skills.
The course is intensive with lots of practical exercises, tips and advice; but the two hour sessions are relaxed. You also get the benefit of developing your skills in the company of like minded people and draw inspiration from each other.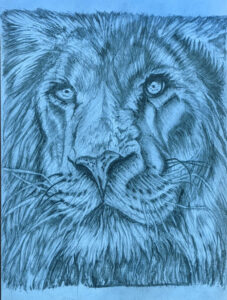 MATERIALS
We shall provide the following equipment and materials:
Paint
A3 & A4 Mixed Media paper
Sketching paper
Collage material
Palettes
Supplementary materials like coloured pencils, markers, erasers and rulers
You will need to supply the following materials for this course:
Pencil set for sketching (4B – 2H)
Sketch Book / Pad
Precision Eraser
About the Tutor
Joel Sydenham (chidi3s) is a visual artist based in Acton. He has a degree in chemical engineering which he gave up to fulfill his dream of being an artist and follow his passion for connecting with people on an emotional level. Not only is Joel a painter, he writes and performs poetry around London and has a range of merchandise. He is also a mentor for The Prince's Trust.
Joel has a passion for community development and has run over 50 workshops for charities, educational organizations, and youth centers across London. He also works as an Art Tutor with Hounslow council's adult education, where he creates and teaches adult and family learning courses. He believes every individual is born a creative genius, and as a tutor he aims to help people gain the necessary skills to express their genius.