Event details
Ad-lib is Ealing's new monthly improvised and experimental music series. This first edition features legendary experimental percussionist Eddie Prevost in concert with:
N.O. Moore – guitar/electronics
Jamie Coleman – trumpet
Daniel Thompson – guitar
Douglas Benford – harmonium/ toys/objects
Plus : Highlights from 'A Bright Nowhere' a major new feature length film documenting Eddie's 80th birthday concerts at Cafe Oto in 2022.
Saturday 7 October
7.30pm
£10 (£5 Students and Unwaged)
Bring your own refreshments
Biographies
Eddie Prévost is one of the UK's foremost improvising musicians.
He is a founding member of the pioneering experimental improvisation group AMM and has had a huge impact on the fields of improvised and new music in the UK and beyond. Eddie has given talks and workshops across the globe and performed and recorded with a who's who list of improvisers.
He runs the record label Matchless Recordings, Copula Publishing and the Friday night London Improvisation Workshop at the Welsh Chapel in Southwark.
To sample Eddie's music and learn more about him click on these links, or read his Wikipedia entry:
http://matchlessrecordings.com/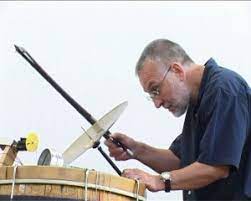 N.O. Moore
Moore is a guitarist interested in electronic sound and timbral manipulation. He has played live with numerous musicians including Eddie Prévost; John Butcher; Rachel Musson; Steve Noble; John Edwards; Alan Wilkinson; Dominic Lash; Roger Turner; Sue Lynch; Crystabel Riley; Rohan de Saram; Phil Durrant and Steve Beresford
His recent releases include
Do Disturb (Matchless Recordings w/ Prévost, Wilkinson, Edwards, and Catchpole)
Chord (Shrike w/ James O'Sullivan, Ross Lambert, and Prévost)
Repetition Disguises (Scatterarchive w/ O'Sullivan)
Under the Sun (Matchless Recordings w/ Musson, Brice, and Prévost)
Ciphers (Superpang w/ Daniel Kordik)

Jamie Coleman
Jamie Coleman is from West London. He has been improvising since 2000 in London and internationally. He has played and recorded with likes of the Cinematic Orchestra, Eddie Prévost, John Russell, Seymour Wright, Ute Kangiesser, Leonel Kaplan, Guillaume Viltard and many others.
"Coleman's slow trumpet lines had a tenderness that evoked more physical kinds of intimacy. The
trumpet became breath, warmth, vibration in a way that got the skin prickling, the senses suddenly
sharpened."

The Wire
Daniel Thompson
Daniel Thompson is a guitarist and improvising musician currently living in West London. He was born in Norfolk, England in 1981 and other than a couple of years playing violin as a child, his musical studies didn't seriously begin until his late teens. Largely self-taught, after moving to London in 2006 Daniel embarked upon a life changing period studying with the guitarist John Russell for two years. "Russell provided me with one of the richest and most rewarding musical experiences of my life".
You will hear and see Daniel performing solo, with other musicians in many ad-hoc improvising situations and in long-term collaborations or "working groups".
emptybirdcagerecords.bandcamp
Douglas Benford
As an accomplished composer, improviser and sound artist, Douglas has been involved in various audio genres and countless collaborative partnerships since the late 1980s, performing at and installing sound art in many institutions/venues in the UK including Bristol's Arnolfini, London's Science Museum, Tate Modern, The Roundhouse, ICA Glasgow's CCA and festivals worldwide.
Click here to listen to Daniel's work

You can buy your ticket on the door, but it is advisable to book in advance so that we're sure to have a seat for you! Don't forget, you can bring your own refreshments to this Ad-lib performance.