Class details
Holiday workshops with Start Studios is a great place for your child to develop their drawing and painting skills.
Monday 9 August : 10am – 12pm – MIXED-MEDIA – Pichardo : Suitable for 5+
In this workshop Fernanda Moreno introduces the children to the art of Mexican contemporary artist, Enrique Pichardo's style in a fun and simple way. Starting with a series of doodles they will find fun figures where there was chaos and make those figures come "alive". They will work with acrylic paints, makers and paper to create an abstract painting full of colour and vibrancy.
To book a place click on this link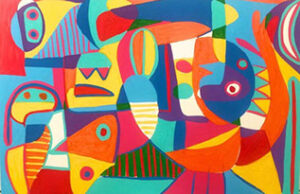 Tuesday 17 – Thursday 19 August : 2 – 4pm – FOOD, GLORIOUS FOOD : Suitable for 5+
Carla Tebbutt leads this 3-day course. The children will be immersed in an adventure about Food and its role in Art. Each day we look at different artists and use different techniques to create fun and interesting artwork. For more information about the course and to book a place, click on this link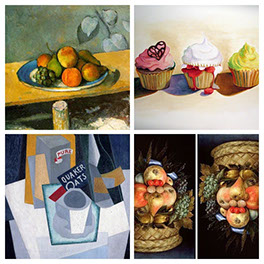 We provide all the materials you need for the holiday workshops with Start Studios. If you want to book a place for your child, please click on this link
About the Tutors
Start Studios was founded by Carla Tebbutt and Fernanda Moreno in 2016. They are artists and mothers.
Carla studied Developmental Psychology and Art Therapy. More recently she has focused on mindfulness for children and child mental health awareness and well-being. She has worked with children aged 18 months to 16 years old. She is fascinated by shapes and colours and believes that creative expression is about the process and journey through which we use and develop our genius.
Fernanda studied graphic design at university in Mexico City, followed by a course in drawing, painting and photography at Lorenzo de' Medici Institute in Florence. She continued her art education at the Art Institute of Philadelphia where she studied Animation and Media arts. "It was the perfect combination of my favourite things: drawing and cartoons." She has worked in animation and design on TV, films and video in New York, Mexico City and London – the Harry Potter series, The Hunger Games, Ex-Machina and James Bond to name but a few. She teaches animation at Notting Hill and Ealing High School.